Custom Engagement Rings
Explore recently crafted engagement rings. Let our one-of-a-kind pieces spark your imagination, and then engage with our expert designers to transform your own vision into reality.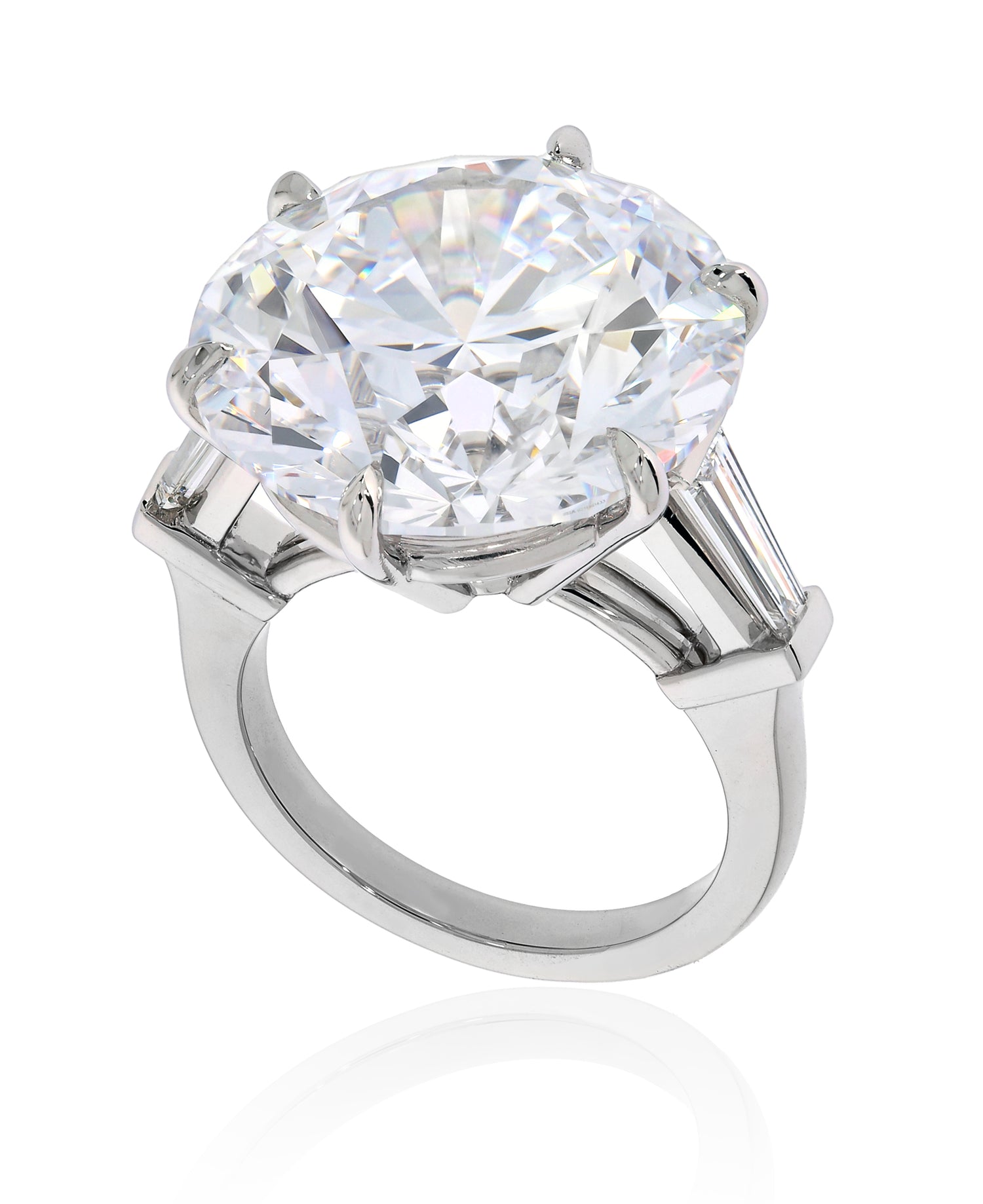 Record setting $2.5M online sale 
Exquisite 21+ carat D color, Flawless clarity, set in platinum ring with perfectly matched tapered baguettes. A rare treasure of elegance and beauty.
Featured in NY Post.
Read the article
Custom Engagement Ring Designs
What is the custom design process?

The custom design process typically involves several steps. It begins with a consultation where you discuss your design preferences, materials, and any specific details you have in mind. Then, the design team will create a concept or rendering based on your ideas. Once the design is approved, the team will proceed with creating the ring.
Can I design my own engagement ring?

Yes, we offer a bespoke design service that allows you to create a custom engagement ring that truly reflects your personal style and preferences.
How long does the custom design process take?

The custom design process varies depending on the complexity of the design, but it generally takes between 4-6 weeks from initial design to final product.
What is the cost of a custom ring?

Custom design rings start at $1,500 and prices vary based on the selected design. You can view other Rare Carat rings here.
What is a jewelry CAD?

A jewelry CAD (Computer-Aided Design) design refers to the creation of digital models or blueprints for jewelry using specialized software. CAD software allows jewelry designers to create detailed, precise, and realistic representations of their jewelry designs before they are physically produced.
Can I see a mockup or rendering of the design before it's finalized?

The custom design team will share renderings of the design for final approval, typically within 2-3 days. A non-refundable fee of $200 is required for our custom design service, which will be applied to your final setting cost. We value your input and want to ensure that the final design meets your expectations.
How many design revisions are included in the custom design process?

In our custom design process, we typically offer 1-2 design revisions as part of our standard service. We understand that refining the design is an important aspect of the customization process, and we are committed to working closely with you to achieve your desired result.
What metals are available?

We offer 14K and 18K gold in white, yellow, or rose, as well as platinum.
Can you replicate a design I found elsewhere?

We focus on crafting unique designs inspired by your preferences, rather than copying existing works. Share your inspiration with our design team, and they will guide you towards creating a distinctive, personalized ring.
Can you incorporate heirloom or sentimental stones into the design?

No, we cannot incorporate heirloom or sentimental stones into the custom design. Custom design rings are only available with diamonds purchased from Rare Carat.
Are custom designed rings returnable?

Custom designed rings are not returnable but can be resized. However, we will provide design renderings for final approval before manufacturing your ring. All settings from our main collection do have a 30-day return period.
How do I ensure the ring will fit correctly?
Do you offer settings with gemstones?

Yes. Popular gemstone options for settings are sapphire, emerald and ruby. Certain gemstones are too soft to be recommended for an engagement ring and can be reviewed by the custom design consultant.
Can you create a custom-designed wedding band to match my engagement ring?

Yes, we can create a custom-designed wedding band that matches your engagement ring. Our design team will work closely with you to ensure that the custom wedding band is designed to perfectly match and enhance the beauty of your engagement ring.